Is Bob Dylan Jewish?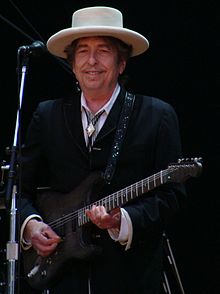 Well, to make a long story short, Bob Dylan is Jewish!
Since Bob Dylan's mother is Jewish, and in Judaism one's religion is based on one's mother's religion, then that makes him also Jewish. His father is Jewish too.
Bob Dylan (who's full birth name is Robert Allen Zimmerman) was born on May 24, 1941 in Duluth, Minnesota, U.S..
Dylan was born Jewish, later converted to Christianity, then he went back to Judaism. He has been an influential figure in popular music and culture for more than five decades. Much of his most celebrated work dates from the 1960s, when he was an informal chronicler and a seemingly reluctant figurehead of social unrest. A number of Dylan's early songs, such as "Blowin' in the Wind" and "The Times They Are a-Changin'", became anthems for the US civil rights and anti-war movements.
If you see any details that require update, please Let us know!
Disclaimer
All information on this page is provided as a service to our users. It is not meant to be a comprehensive document, though we try to keep it as updated as we can. We cannot be held responsible in any way for any consequences arising from any inaccuracies.