Is Evan Rachel Wood Jewish?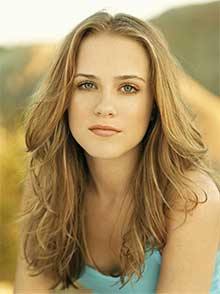 Well, to make a long story short, Evan Rachel Wood is Jewish!
Since Evan Rachel Wood's mother is Jewish, and in Judaism one's religion is based on one's mother's religion, then that makes him also Jewish. His father is not Jewish.
Evan Rachel Wood was born on September 7, 1987 in Raleigh, North Carolina, U.S..
Her breakthrough role came playing the daughter Jesse on the TV series Once and Again during the 1999-2002 seasons. Her first feature film starring role was in Digging to China. Additional film credits include Simone, Little Secrets, and The Missing. Wood earned a Golden Globe nomination for her starring turn in the 2003 film Thirteen. Other notable credits include Pretty Persuasion, The Upside of Anger, Down in the Valley, Running with Scissors, King of California, The Wrestler and Whatever Works. She also plays Sophie-Anne, vampire queen of Louisiana, in True Blood. She is a recurring guest star in the second, third, and fourth seasons.
If you see any details that require update, please Let us know!
Disclaimer
All information on this page is provided as a service to our users. It is not meant to be a comprehensive document, though we try to keep it as updated as we can. We cannot be held responsible in any way for any consequences arising from any inaccuracies.