Is Julianna Margulies Jewish?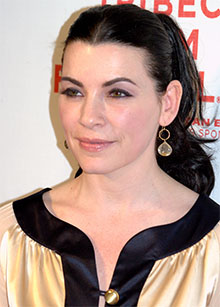 Well, to make a long story short, Julianna Margulies is Jewish!
Since Julianna Margulies's mother is Jewish, and in Judaism one's religion is based on one's mother's religion, then that makes her also Jewish. Her father is Jewish too.
Julianna Margulies (who's full birth name is Julianna Luisa Margulies) was born on June 8, 1966 in Spring Valley, New York.
Margulies wasn't raised Jewish. Her parents are Jewish, but her mother was baptized when Margulies was five years old, and took a Christian path. Margulies, however, considers herself as Jewish.
Margulies achieved both critical and commercial success in her role as Nurse Carol Hathaway on NBC's long-running medical drama ER, for which she won an Emmy Award. In 2009, she took the lead role of Alicia Florrick in the American legal drama The Good Wife on CBS, for which she has won a Golden Globe, a Television Critics Association Award, and the Primetime Emmy Award for Outstanding Lead Actress in a Drama Series in both 2011 and 2014.
If you see any details that require update, please Let us know!
Disclaimer
All information on this page is provided as a service to our users. It is not meant to be a comprehensive document, though we try to keep it as updated as we can. We cannot be held responsible in any way for any consequences arising from any inaccuracies.