Is Richard Dreyfuss Jewish?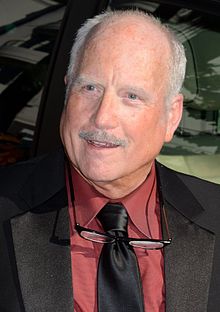 Well, to make a long story short, Richard Dreyfuss is Jewish!
Since Richard Dreyfuss's mother is Jewish, and in Judaism one's religion is based on one's mother's religion, then that makes him also Jewish. His father is Jewish too.
Richard Dreyfuss (who's full birth name is Richard Stephen Dreyfus) was born on October 29, 1947 in Brooklyn, New York, U.S..
He is best known for starring in American Graffiti, Jaws, Close Encounters of the Third Kind, Down and Out in Beverly Hills, The Goodbye Girl, and Mr. Holland's Opus.
Dreyfuss won the Academy Award for Best Actor in 1977 for The Goodbye Girl (1977), and was nominated in 1995 for Mr. Holland's Opus. He has also won a Golden Globe Award, a BAFTA Award, and was nominated in 2002 for Screen Actors Guild Awards in the Outstanding Performance by a Male Actor in a Drama Series and Outstanding Performance by a Male Actor in a Television Movie or Miniseries categories.
If you see any details that require update, please Let us know!
Disclaimer
All information on this page is provided as a service to our users. It is not meant to be a comprehensive document, though we try to keep it as updated as we can. We cannot be held responsible in any way for any consequences arising from any inaccuracies.