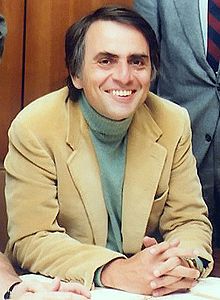 Well, to make a long story short, Carl Sagan was Jewish!
Since Carl Sagan's mother was Jewish, and in Orthodox Judaism and Conservative Judaism, those with a Jewish mother (or those who underwent a halakhic conversion) are considered Jewish, then that makes him Jewish. His father was Jewish too.
Carl Sagan (whose full birth name was Carl Edward Sagan) was born on November 9, 1934 in Brooklyn, New York. Carl Sagan passed away on December 20, 1996 (aged 62).
He is known for his popular science books and for the award-winning 1980 television series Cosmos: A Personal Voyage, which he narrated and co-wrote. The book Cosmos was published to accompany the series. Sagan wrote the novel Contact, the basis for a 1997 film of the same name.
He spent most of his career as a professor of astronomy at Cornell University where he directed the Laboratory for Planetary Studies. He published more than 600 scientific papers[2] and articles and was author, co-author or editor of more than 20 books.
If you see any details that require update, please Let us know!